The product in this article is a custom made overmolded humidity sensor, we developed for one of our customers. Our customer uses this sensor to measure temperature and humidity. Therefore, we use a high quality sensing component. Typically for such a product is that we reduce the development time because of the experience we have in-house. In this case, overmolding reduces the number of parts and as such it reduces the assembly time. In fact, such a product only needs one or two molding cycles, besides the preparation of the PCB and the cable, to get it ready.
Usually, we advise to do the overmolding in two steps. In the first step, we make the entire volume of plastic material. Because of the volume there will be shrinkage. The result is a surface which is not smooth at all, and sink marks will be visible. Therefore, we inject an extra finishing layer of plastic over the first layer. In this way, we ensure a nice quality finish of the custom made overmolded humidity sensor. Even the mounting flange is overmolded. As a result, it fits nicely ad tight around the probe.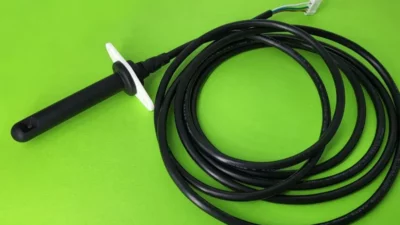 Specialized in overmolding.
At Davantech we specialized in overmolding of electronic components and PCB overmolding. As a result, we offer specific solutions for those customers who need a high quality product, with limited dimensions. Another advantage of this manufacturing process is that we create watertight units. Furthermore, we overmold metal contact pins. In this way, we produce electronic connectors and cables with integrated connectors. Commonly, we use TPE for overmolding. The shore varies from soft material to a hardness of shore A 100.
Do you have a specific request for development and manufacturing of overmolded components? Feel free to contact us with your inquiry.