For those customers who want to outsource the fabrication of their aluminum CNC parts and therefore looking for trustworthy machining factory, Davantech is the perfect choice. The main reason is because we offer quick aluminum CNC precision machining services in an efficient way. Further more, our CNC machining shop covers over 2000 square meters, including advanced CNC machines. Next, product design and production capabilities guarantee outstanding OEM aluminum CNC machined parts to customers around the globe. Davantech is ISO9001:2015 certified.
Cost efficient CNC machining.
Aluminum is widely used as a raw material for industrial components and building materials. Therefore, CNC machining is a very common fabrication process for aluminum parts. More specific, it has very good thermal properties which are excellent to fabricate heatsinks and cooling elements. In addition, aluminum machined parts have a great strength compared to their mass. And not to forget, the metal has an outstanding machinability. That makes aluminum the preferred material to make parts for a broad range of CNC machined components. Among CNC machined parts are electronic enclosures, extrusions for frames and LED applications, aluminum mounting brackets, components of machinery, airplane parts, and many industrial components.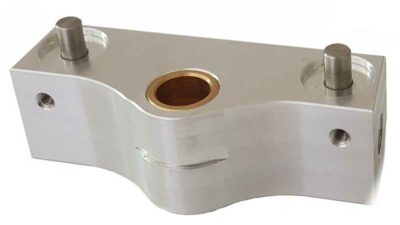 Benefits of aluminum for component manufacturing.
Aluminum has a good strength to weight ratio.
It can be casted, extruded and forged.
Durable material and comes in many grades.
Good thermal conductivity.
Non-magnetic, non-flammable.
Small to large size depending on the fabrication process.
Precision milling and turning possible with narrow tolerances.
Different surface treatments such as anodizing.
Resistant low temperature.
Electrical conductivity.
Aluminum is recyclable.
Component fabrication is relatively fast and low cost.
CNC Aluminum machining by Davantech.
As a professional CNC machining manufacturer based in China, Davantech offers CNC machining and aluminum components manufacturing done by skilled and experienced staff. In addition, the factory is managed well by a Dutch and Chinese team. And also, thanks to our additional product design and tooling design engineers, we understand the entire process from idea till manufacturing. Even more, we know the characteristics of aluminum and how to process it in different ways. In this way, you will benefit from our experience of how to make aluminum machined parts in the most economical way. As a result, we always offer the best solutions for your product requirements.
What can we offer in terms of aluminum parts manufacturing?
Range of aluminum materials:
Aluminum 6061, Aluminum 2024, Aluminum 5052, Aluminum 6063, Aluminum 7050,Aluminum 7075,
Custom surface treatments:
Anodizing, powder coated and wet painted surfaces are the standard surface treatments. Colors applied are Black, Natural, Blue, Green and different colors as your requirements
Surface finishing:
Sand blasting, polishing, shaking, anodizing, oxidation, electrophoresis, powder coating and wet painting
Various aluminum processing:
Aluminum extrusion, aluminum forging, CNC aluminum milling, CNC aluminum turning, CNC aluminum drilling, reaming and tapping.