The PCB overmolding is a delicate injection molding process but it has several advantages. Let a professional factory like Davantech do the job for you.
Watertight electronic assembly
Overmolded sensors: temperature, humidity, capacitive
Mold manufacturing and overmolding
Engineering support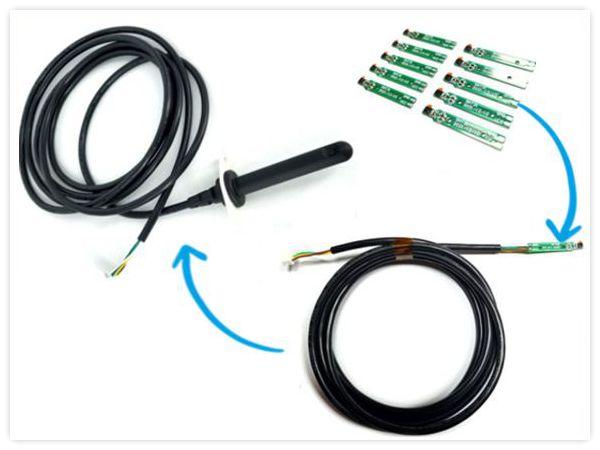 We use PCB overmolding in those cases where the usual product assembly techniques don't offer the right solutions.
Overmolding is a fast solution to make a watertight electronic unit. To clarify, we don't need to use seals, screws or glue.
Integration of overmolded printed circuit board and turn it into a connector with attached cable, for example.
We overmold sensors, LED's and other electronic components.
It has to be said that this process is very specific. As a result, it requires engineering skills as well as experience in the manufacturing process. Moreover, tolerances are narrow, which implicates accurate tooling. In addition, an error during the molding process destroys the printed circuit board and increases cost.
Therefore it is better to let an experienced injection overmolding factory like Davantech, do the job for you.
Overmolded printed circuit boards.
The simplest way is to overmold a PCB with a layer of soft TPE or TPU. In this case, the product is ready in one molding cycle. Typical products are humidity and temperature sensors soldered onto a PCB with attached cable. We also encapsulate capacitive sensors with a layer of plastic. For other products we injection overmold the PCB, or a part of it in a shell of hard plastic and then do a partial or full overmolding. For example, when overmolding printed circuit boards with moving components such as a vibrator, we need to leave space around the component in order to let it move. Another example are batteries. It is important not to bring the molten plastic in direct contact with a battery to avoid damage due to the high temperature. Also, LED strings require a transparent shell made of polycarbonate which is overmolded partially to obtain a sealed assembly.