CNC machining is a manufacturing process where we cut material away from a metal or plastic part.  Most people will think of milling and turning, right away. To clarify what is cnc machining, CNC stands for Computer Numerical Control what means that a computer drives the different axis of the machine. The minimum number of axis is 3. There are also more complex machines with 4, 5 and even 6 axis simultaneously controlled by a processor. The movement of the workpiece and the movement of the cutting tool together make that the desired part is formed. In most cased, such as CNC milling and laser cutting it is the workpiece that moves. In case of turning or lathing, it is the workpiece that rotates and the cutting tool moves.
Starting from a 3D CAD model of the desired part, we make the program to drive the different axis of the machine as well as the movements of the cutting tool. Therefore we use CAM (Computer Aided Manufacturing) software.
This specific machining program is mostly defined by G-code.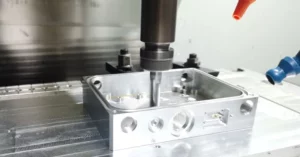 There are different manufacturing processes, all based on CNC machining. Each type of machining has its specific features and advantages in order to manufacture a workpiece. We use CNC milling and turning machines to cut and drill a workpiece until we obtain the desired shape. CNC milling centers come in 3-, 4-, and 5-axis configurations, and we use them depending on the complexity of the component to be made.
What are the two main configurations of CNC machines?
The first configuration is the one where the workpiece is moving and the cutting tool rotates. Clearly, this is the case with CNC milling, CNC metal punching, EDM and wire cutting.
The second configuration of is where the workpiece is spinning and the cutting tool moves along different axis. The most obvious process here is turning or lathing