CNC machining: milling and turning.
As an ISO 9001:2015 certified CNC machining factory, we offer CNC machining. To clarify, we specialize in precision milling and turning. More specific, with our CNC machining centers, we provide precision CNC machining of metal as well as plastic components. Therefore, we utilize state of the art milling centers and CNC turning machines, and a big part of the mills are high-speed. Most milling machines have 3-axis control. In addition, we also have 4-axis and 5-axis machining centers. Feel free to visit our plant and you will see our latest equipment for milling and turning.
At Davantech, we also offer a variety of other manufacturing services as well, which cover the entire production process of numerous components. In addition, we have brand new machinery to tackle conventional milling, drilling, turning and reaming, as well as grinding and deburring. Through approved, certified sub-contractors, we can also provide heat treating, welding, plating, and painting. Once the fabrication is completed, our quality department inspects, makes a measuring report and releases the part. Finally, we assemble and pack the goods for shipping. Small- to medium-sized parts manufacturing is Davantech's specialty. Our production area turns out runs of 10 000 pieces or more per month. Even if it needs special processing or assembly, our skilled team takes care of your project from concept to production. Our machining department has delivered millions of parts to a broad range of industries world wide.
CNC milling service.
We use the CNC machining process to shape plastic or metal parts. In addition, we use our equipment to create complex 3D-shapes. A milling center uses a turning cutting tool that moves in all three dimensions. In this way, it removes material to achieve the desired part shape. The material is cut from block of material which is placed on a moving table below the cutter. A computer controls the vertical (Z axis) motion of the cutter and the horizontal (X and Y axis) motion of the block of material while the cutting tool turns. Contact us for CNC milling and turning service in China. Our team is proud to provide advanced CNC milling services. The main fields of use are electronic enclosures and racks, machining parts, mounting brackets, mechanical and industrial components. At Davantech, our number one priority is customer satisfaction. That is why we handle large volume runs, without compromising speed and quality on our 20 machining centers. Please contact us for cnc milling services.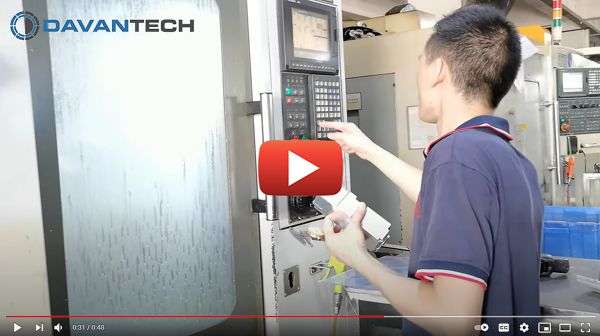 CNC turning service.
Our CNC machining of aluminum components include high speed turning. As a result, we produce high quality turning of both plastics and metals. We are one of the most capable and affordable sources for CNC turning in the Dongguan area. Furthermore, we can get the job done right. Turning capacity is available for prototypes. At the same time, we handle low-volume production of your product and parts. Customers recognize our unsurpassed quality and accuracy of our precision CNC turning. As a result, we ensure the performance of each component we produce. Because we have many years experience in CNC turning, and our reputation for quality continues to grow. At Davantech we have provided precision cnc turning for applications such as machining parts, turbine components, construction equipment, forgings, valves, sockets, bushings, and more. Most of our work is performed within 2 to 3 weeks depending on the complexity of the parts. Rush services also available.
Materials used
We produce a broad range of custom made metal and plastic components for you. Machinable materials including Aluminum such as AL2014, AL2017, AL5052, AL6061, AL6082, AL7075, Brass, Copper, Stainless Steel such as SUS201,SUS303, SUS304, SUS316, 316L , Steel 17-4PH, LY12, 65Mn, Cr12, 40CrMo, AL6063 , ST12.03,SS2331, AISI12L14, Y15, 45#, Q275 and plastics like ABS, Bakelite ,POM, PC, PEEK, Nylon, Teflon and Acryl. We source the materials you request in case they are not available in stock.
Our equipment to fabricate parts:
We operate all necessary equipment to produce high quality metal and plastic parts. There is a strict follow up of the machines tolerances and we adjust when necessary. Two high skilled programmers make the CAM programs for numerous machining parts, every day. In addition, quality engineers follow the first out-of-machine samples to inspect and adjust on the spot.
CNC milling centers 3 axis with capacity of 500 x 800 mm. Additional 4-axis.
5-axis CNC machining centers.
Milling machines to mill large parts, such as extrusions up to 2 meters.
CNC turning machines.
Conventional turning and milling machines.
Drilling of holes an deburring.
Tapping of threaded holes.
Reaming of holes with narrow tolerances.
What is important when choosing in partner for CNC machining in China?
Certificates.
The basic certification is ISO9001:2015. However it is also important to cooperate with a supplier that meets the RoHS and REACH standards.
Manufacturing capabilities.
Verify what can be done in one factory. For CNC machining in China, it is important to centralize your manufacturing to a minimum of suppliers. In this way you have to follow up less suppliers, and the communication is easier. The result is that you build up a long term relationship which can only benefit your business. At Davantech we have from small to large machines. Our standard 3 axis CNC milling centers have a range of 850×600 millimeters. Next, we have large CNC machines for lengths up to 4 meter. We also use 5 axis machining centers and CNC turning equipment. Several types of conventional processing machines are used for drilling, tapping, removing burrs and reaming.
Quality control management.
Quality control is very important. Following our ISO9001:2015 standards we follow a strict quality control system. With checks throughout the production and measuring reports for each production batch.
Communication.
At Davantech, you can communicate in English with staff in China and in Europe. As a European factory in China we understand your culture and needs.
Who we are.
Davantech is a professional factory for CNC machining. We are located in Europe and our factory is based in Dongguan, China since 2012. We also provide product engineering services. Our factory covers an area of over 1000 square meters. One of our specialties is CNC turning, CNC milling and CNC machining. Surface finish such as powder coating and anodizing is possible. Among the benefits of cooperation with us, is added value. We add value to simple products through product assembly. Whether the quantity is small or large, we have the capabilities of meeting our customers' most demanding needs.