CNC machining : milling and turning.
---
We are an ISO 9001:2015 certified components manufacturing company. With our CNC machining centers, we provide precision CNC machining of numerous materials, including stainless steel machining and aluminum machining. More specific, we specialize in precision milling and turning. Therefore, we utilize state of the art milling centers, and all of the mills are high-speed. Feel free to visit our plant  and you will see our latest equipment for CNC milling and CNC turning.
At Davantech, we also offer a variety of other machining services, which cover the entire production process. In addition, we have brand new machinery to tackle conventional milling, drilling, turning, and sawing, as well as grinding and honing, deburring, and part marking. Through approved, certified vendors, we can also provide heat treating, welding, plating, and painting. Once your part is complete, it is inspected by our QC department. Finally, we assemble and pack the goods for shipping.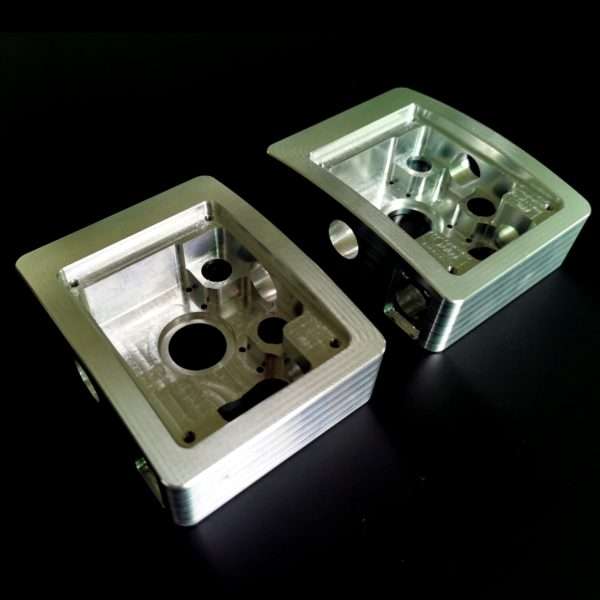 Series CNC machining.
Small- to medium-sized parts manufacturing is Davantech's specialty. Our production area will turn out runs of 10 000 pieces or more. Even if it needs special processing or assembly, our skilled team takes care of  your project from concept to production. To clarify, our machinery has delivered millions of parts to a broad range of industries world wide.
CNC machining process.
We use CNC machining to apply a machining surface finish on plastic or metal parts. In addition, we use our equipment to create complex 3D-shapes. A milling machine uses a turning cutting tool that moves in all three dimensions. In this way it removes material to achieve the desired part shape. The material is cut from block of material which is placed on a moving table below the cutter. A computer controls the vertical (Z axis) motion of the cutter and the horizontal (X and Y axis) motion of the block of material while the cutting tool turns. Contact us for CNC milling and turning service in China.
Machining and milling service.
Our team is proud to provide advanced CNC machining and milling services. The main fields of use are electronic enclosures, machine parts, mechanical  and industrial components, electronic component racks. But also custom storage racks, and more.
At Davantech, our number one priority is customer satisfaction. That is why we handle large volume runs, without compromising speed and quality on our 20 machining centers. Please contact us for cnc milling services.
Materials used
We produce a broad range of custom made metal parts. Therefore we mainly us our brand new LV850 CNC milling centers.
Commonly used materials :
Stainless steel.
Steel.
Brass.
Plastic : ABS, PA66, POM.
We will source the materials you request.
At Davantech, we pay extra attention to reaming, chamfering and tapping of tread.
Our Equipment :
We operate all necessary equipment to produce high quality metal parts.
CNC LV850 milling centers 3 axis with capacity of 500 x 800 mm.
CNC turning centers
Conventional turning and milling machines
Drilling
Tapping
Reaming
CNC Turning Service High Quality Parts.
Our CNC turning services include high speed turning. As a result, we produce high quality turning of both plastics and metals. We are one of the most capable and affordable sources for CNC turning in the Dongguan area. Furthermore, we can get the job done right.
Turning capacity is available for prototypes. At the same time, we handle low-volume production of your product and parts.
Customers recognize our unsurpassed quality and accuracy of our precision CNC turning. As a result, we ensure the performance of each component we produce. Because we have many years experience in CNC turning, and our reputation for quality continues to grow.
Davantech's CNC turning services.
At Davantech we have provided precision cnc turning for applications such as machine parts, turbine components, construction equipment, forgings, valves, sockets, bushings, and more. Most of our work is performed within 2 to 3 weeks depending on the complexity of the parts.  Rush services also available.
Who we are.
Davantech is a professional factory for CNC machining service. We are located in Europe and our factory is based in Dongguan, China since 2012. We also provide product engineering services. Our factory covers an area of over 1000 square meters. We obtained ISO 9001:2015 certification in 2018. One of our specialties is CNC turning, CNC milling and CNC machining. Surface finish such as powder coating and anodizing is possible. One of our benefits is assembling services for small or large volumes and this for a variety of markets.  Whether the quantity is small or large, we have the capabilities of meeting our customers' most demanding needs.
We are a one-Stop partner.
We are dedicated to build solid partnerships. Basically, we provide flexible solutions for our customers' success.
Our talented team is driven to deliver end-to-end product solutions. In addition, we strive to do this at the lowest total cost. Our expertise is in design and engineering, as well as components manufacturing and supply chain management services. Our range of solutions include the entire process to create a product :  from design, manufacturing processes, through the delivery. We develop customized solutions that drive product innovation, cost savings, supply chain efficiencies and improved time-to-market. We do this by understanding the unique complexity of each customer's business.
Are you looking for a partner for CNC machining ?
Davantech is specialised in CNC milling of aluminum, steel, stainless steel and brass. In addition, we produce plastic machining parts as well. Our standard is high and prices are competitive. Next to our manufacturing services we also sell standard electronic enclosures made of extruded aluminum. And, these enclosures are fully customizable.
Don't hesitate to send your requests for quotation. We will answer you within a few days. And also, can we assist you in making 3D files and Technical drawings of your product.