How To Find The Right CNC Machining Supplier In China?
When searching for low costs CNC machining factories with fast turnaround times, you will certainly find a lot of Chinese CNC machining service providers. It has to be said that they are common choice for those companies looking to outsource their machining parts manufacturing. To clarify, outsourcing custom CNC machining to China, from USA or any other country in the world, is a crucial step for many product engineers, because few other countries can match China in terms of cost and efficiency. And there are still a number of benefits related to outsourcing your manufacturing to China.
However, to find the right supplier for CNC machining in China is often very difficult. There are a lot of Chinese CNC machining factories to choose from, and communication is in general more challenging than it is with local suppliers. In addition there are the differences in currency, quality standards, and intellectual property laws.
Furthermore, there are numerous websites such as Alibaba and Made-in-china, where you can find hundreds of suppliers. But, be aware that many of the registered companies have no machinery and thus they can be cataloged as traders. To make things simpler, we provide you with some tips in case you want to find a good CNC milling services provider in China.
Outsourcing CNC machining to a trustworthy supplier.
Companies all over the world, whether they are small or large, outsource at least a part of their components fabrication. For prototypes, pre-series and mass production, many companies choose to have their CNC machined parts made by a Chinese CNC machining company. Moreover, it does not make sense for small or medium-size companies, to invest in their own machinery. In addition, there is also the need of skilled programmers and operators, which are not always available.
Even CNC machining might be less of an art than manual machining, it still requires knowledge and lots of experience to have the machining job done in the right way.
Why outsourcing CNC machining to China?
In the last decades, Chinese cnc machining factories adapted to mass production of high precision quality parts manufacturing. And, along the way they became experts in the field of component manufacturing. The Chinese factory output and export to the rest of the world is a proof of their success.
Still, China offers the most efficient and competitive custom manufacturing of components available today. In addition, upscaling of the machining capacity has driven the costs further down. And in most cases, because of the huge number of CNC machining factories in China, many factories use Chinese made CNC machines in combination with Western machinery. Furthermore, nothing can be compared to the large supply chain of raw materials, machine parts, cutting tools in China.
However, you have to be aware that every part makes sense to be manufactured in an CNC machining company in China. Simple parts, which are heavy, don't have that much added value when being CNC machined in China. In addition, the shipping cost adds a lot to the unit cost. And, those shipping costs increased drastically in the last year.
There is a bigger advantage to outsource production of medium size series, because its not efficient to involve automation. Also, machined features which can be done by hand add to low cost. Think of deburring, chamfering, reaming, assembly.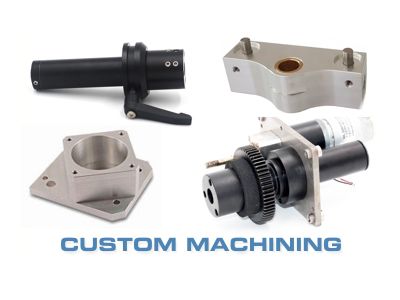 How to find a CNC machining company in China?
First there is the internet. In your search of finding the right custom CNC machining supplier in China for export to USA or Europe, there are plenty of factories on the first pages of the internet and also on B2B websites. Therefore, the first step is checking the information provided by the machining factories. As a result, you will know already a lot more about the potential partners to choose from in a few simple steps. Among all tips, the utmost important is to visit the factory and get an impression of who they are, how they communicate and how they work. The final step is to ask quotations and compare the prices of the factories.
What is important when choosing in partner in China?
Obtained Certificates.
Our factory is ISO9001:2015 certified, which is a good basis. Nevertheless,  companies like Davantech, who have RoHS and REACH certificates have a plus.
What are the production capabilities.
Factories with different production capabilities have some advantages. When a big part of your production is centralized at one supplier, there is less communication and needed and follow up becomes easier. As a result, your business benefits from a good relationship with one supplier.
At Davantech, we have a range of machinery available with whom we can produce a variety of components. In our machine shop we have 3- and 4-axis CNC machines, turning machines and even injection machines. We even have machines capable of milling parts up to four meters long. Conventional machinery includes drilling, tapping, and reaming.
Quality control.
A CNC machining factory in China needs a strict quality control system. Delivering quality parts is the most important. Therefore, we obtained ISO9001:2015 standards. We perform quality checks throughout the production cycle.