We understand the need of small production series. More specific, since many years we specialized in low volume production of aluminum parts as well as plastic components. It has always been our focus to provide CNC machining (turning and milling) and injection molding services to start-ups and small business. Therefore, we have the machinery and skilled operators to fabricate parts that meet your requirements.
Short production times for small batches.
It is necessary to focus on flexibility and fast turn around times to be able to handle small volume production of different kinds of parts. And, that is exactly what Davantech is specialized in. More precise, our average turn around time for small batch CNC fabrication is 10 days. It has to be said, that the complexity of the parts affect the production time directly and thus, we need more time to finish more complex products. Also, it takes several days to get the surface treatment such as powder coating and anodizing done in a proper way.
Nevertheless, an average production time for small series of 10 to 20 days suits most customers demands. Nowadays, large volume manufacturing comes under pressure, with the increased container shipping cost. However, shipping cost by air remained unchanged. As a result, the average prices for small volume productions have not changed recently.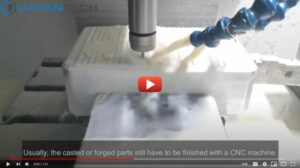 Low volume production size.
We count production of 1 to 10 pieces of CNC machining parts as prototype manufacturing. It does not matter if the prototypes are made of metal or plastic. 3D printing of plastic components is not our core business but we can provide them. Furthermore, when it comes to low volume part production size we count batches of 50 pieces as a minimum. Batches of 50, 250 and even 500 pieces are small compared to production runs of 10K, 100K and even 1000K mass production.
When we talk about plastic injection and overmolding, there is the necessity of using injection molds. Therefore, we count production series of 500 to 1000 plastic components as a minimum. Else, it would be inefficient and thus useless to use this production process.