Get an instant online quote for CNC machining and injection overmolding
Why do our customers love our product manufacturing service? Get an instant online quote for CNC machining and overmolding
*Parts ready in as fast as 1 week
*Professional service from 10 to 1000+ parts
*Quality quotations issued within 24h | No agents in between
*Shipping worldwide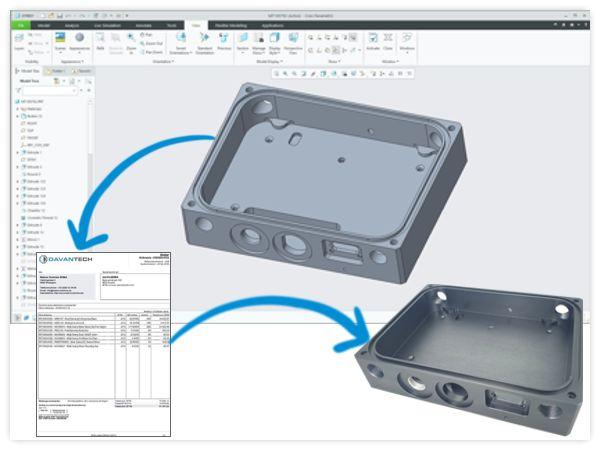 As the global industrial manufacturing is changing fast, we at Davantech can't fall behind. Therefore, we constantly adapt to meet the needs of our customers in terms of flexibility and speed. More specific, now we give you an instant online quote for CNC machining and overmolding services. In addition, now we ship out CNC machining parts in as fast as one week. Investing in machinery and people allow us to meet the demanding needs of many clients in the industry.
Whether you need 1 prototype or 1000+ parts, we always strive to reduce delivery times to a minimum. It has to be said that large series manufacturing needs a different approach than small batch manufacturing. For prototypes and fast production runs, there is often no time for optimizing the production process in terms of efficiency and cost.
As for CNC machining, including milling and turning of plastic as well as metal components, we can start producing within hours. However, when we talk about injection overmolding, there is the manufacturing of the mold prior to the series manufacturing. Lets say that manufacturing of a mold takes about 25 to 35 working days, which is still fast. Once the mold is ready, we can do the testing and series injection overmolding. We issue your online quote for CNC machining and overmolding in as fast as 24hours.
Manuacturing speed has benefits for many customers. Hence, we all know that accuracy and efficiency are very important as well. Therefore, it is best to involve us very soon in the development of new products. We think solutions with our customers and assist in choices related to materials, manufacturing processes, and cost reduction.
Request a quote here:
Upload your files in the form below, or just drop us an email with the information of your parts attached to sales@davantech.com.